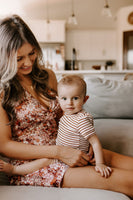 Hi! I'm Kelsey!
Thank you so much for being here and shopping Parker + Poppy. Your support means the world to me.
I run this online boutique out of my home in St. Andrews, MB! I wanted to bring us Canadian girls the cutest styles in an easy to shop website.
My husband (John), baby boy (Cooper) and dog (Murphy) are my world!
Follow along behind the scenes on Instagram!
TAP HERE
D O . I T . F O R . T H E . G R A M

- CANADIAN ONLINE CLOTHING BOUTIQUE
- $9.99 FLAT RATE SHIPPING ACROSS CANADA
- LOCAL PICKUP AVAILABLE IN ST. ANDREWS, MB
- FREE SHIPPING ON DOMESTIC ORDERS OVER $150 
- TAKE 10% OFF YOUR FIRST ORDER BY SUBSCRIBING TO OUR NEWSLETTER
- WE DONATE TO THE WINNIPEG HUMANE SOCIETY
SHOP NOW